UK: anti-Semitic incidents at 'all-time high'
Comments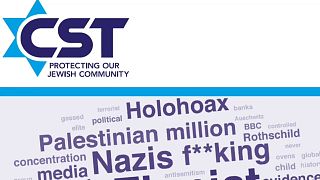 Anti-Semitic incidents across the UK in 2017 numbered the highest ever recorded in a calendar year, according to a report by the charity Community Security Trust.
Some 1,382 episodes were reported, marking a three percent increase from 2016, which had also been a record total. From January to the end of October 2017, more than a hundred anti-Semitic incidents per month were recorded.
CST also received a further 872 reports of possible incidents last year.
France has also published figures suggesting that while hate crimes, racist, anti-Semitic and anti-Muslim incidents dropped in 2017, they instead became more extreme, particularly against Jews.
The Interior Ministry said 950 acts were recorded last year, representing a decrease of 16 percent. However, violent acts targeting minority groups rose from 67 to 72 against Muslims and from 77 to 97 against Jews, the report concluded.
France's Prime Minister Edouard Philippe has denounced "a new violent and brutal form of anti-Semitism" in the country.