Watch: Dramatic moment a Russian jet 'unsafely' intercepts US naval plane
Comments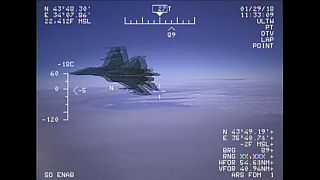 Images have been released showing the moment a Russian jet intercepted a US surveillance plane while flying in international airspace over the Black Sea on Monday. 
The US Navy released video showing the Russian Su-27 fly "within 5 feet (1.5 metres)" of the EP-3 Aires aircraft, while in neutral territory. 
"This interaction was determined to be unsafe due to the Su-27 closing to within five feet and crossing directly through the EP-3's flight path, causing the EP-3 to fly through the Su-27's jet wash," wrote the US Navy.  
"The duration of the intercept lasted two hours and 40 minutes."
The US state department in a statement said, "This is but the latest example of Russian military activities disregarding international norms and agreements." It also called on Russia "to cease these unsafe actions."
'Strict compliance'
Russia has defended its jet's move, saying it was steering the American reconnaissance aircraft away from Russian territory and that the interception was "safe".
"The Su-27 approached the aircraft to a safe distance and identified it as a US EP-3E Aries II electronic warfare and reconnaissance aircraft," the Russian defence ministry told state news agency TASS on Monday. 
"The Su-27 flight was performed in strict compliance with international rule of airspace use, not (sic) incidents were reported," said the ministry.