Myanmar court set to decide on bail for Reuters reporters
Comments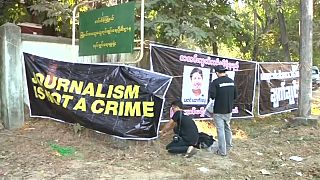 A court is due to decide on February 1 whether to bail two Reuters journalists accused of breaching Myanmar's secrecy law.
The case against Wa Lone, and Kyaw Soe Oo, who were covering the country's Rohingya refugee crisis, carries a maximum sentence of 14 years.
The pair have already spent over six weeks behind bars after their arrest under the Official Secrets Act.
They were arrested in December after police accused them of violating a colonial-era law by acquiring "important secret papers" from two policemen - something the pair deny.
The law has rarely ever been enforced, until now.
There's been an international outcry at their treatment with some saying Myanmar is restricting press freedom.
The Reuters journalists had been arrested in connection with reporting on the situation in Rakhine state, where 688,000 Rohingya Muslims have fled an army crackdown on insurgents since late August, according to estimates by the United Nations.
Last week Myanmar police sought permission from the nation's president to go ahead with an investigation into whether two Reuters journalists had breached the Official Secrets Act only an hour after arresting them last month
The prosecution has objected to the request for bail.
Government officials from some of the world's major nations, including the United States, Britain and Canada, as well as top U.N. officials, have called for the reporters to be freed.