Italian police arrest postman after finding hundreds of undelivered mail at his home
Comments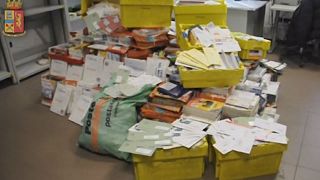 Copyright

REUTERS/POLICE HANDOUT
Police arrested on Monday a postman in Vicenza, in northern Italy, after finding hundreds of non-delivered mail in his garage.
Authorities were alerted to the postman by employees of a recycling depot close to Vicenza's post office. The employees said they found 43 boxes containing undelivered mail in a yellow bin.
Discovered were 572 kilos of letters, receipts, bank statements, and electoral pamphlets for the 2010 municipal elections in the postman's garage in a stash collected for over a period of eight years.
The Vicenza postal service said it will now deliver all the mail, though it may be a little too late.