Japan calls for more cryptocurrency rules and security
Comments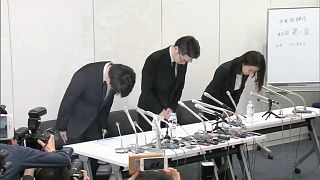 The Japanese government has weighed into the debate about cryptocurrencies following the record-breaking hack into a major Tokyo exchange on Friday.
The chief government spokesman said Japan would be calling for more rules to govern the cryptocurrencies, and more security for those using them.
Cryptocurrencies have had their image as a safe investment challenged by criminals before, but the hack of Coincheck Inc. netted the pirates the equivalent of €430 million in Nem, one of the top 10 cryptocurrencies. The hack has shut Coincheck down since Friday, except for exchanges in Bitcoin, which continue to flow unhindered by the pirates.
Coincheck is promising to reimburse the 260,000 clients hit by the hack out of its own capital, and has offered its apologies.
The Japanese government has ordered the platform to beef up its client security.
"The government will investigate the causes of the accident and deliberate on the necessary counter-measures. Then the government will also discuss whether further measures are needed," said Chief Cabinet Secretary Yoshihide Suga.
News of the robbery sent the value of the Nem into a tailspin, and it dragged several other cryptocurrencies down with it, including market leaders like ethereum, ripple and even mighty bitcoin, although the latter shrugged off the shiver relatively quickly.
Coincheck says it has a lead and hopes to get the money back, but the robbery comes in the wake of numerous calls at the World Economic Forum for more rules and safety for cryptocurrencies.