Dozens killed and injured in fire at South Korean geriatric hospital
Comments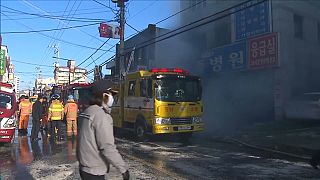 Fire began in emergency room -fire station official

Officials say at least 37 killed, more than 70 injured

About 200 people evacuated from hospital, nursing home

Hospital did not have sprinkler system
At least 37 people have been killed and more than 70 injured in a fire in a geriatric hospital in South Korea.
The blaze is the deadliest in South Korea for the last decade, according to reports. It follows a fire last month which killed 29 people in a high-rise sports centre.
The tragedy is raising further concerns over the country's safety standards.
South Korea, Asia's fourth-largest economy and one of the world's fastest-ageing populations, has faced criticism in recent years over inadequate safety standards.
What happened?
The fire started at around 0730 am local time at the rear of the emergency room on the first floor of Sejong Hospital in Miryang, which is around 270 kilometres southeast of the capital, Seoul.
Television news footage showed a huge pall of black smoke billowing from the windows and entrance to the hospital.
The sit-rep
At least 177 patients - mostly elderly - were inside when the fire broke out

At least one doctor, a nurse and a nurse's aide were killed on the second floor

Eight people are listed as critically injured

69 listed as slightly injured

Most of those who died were on the first and second floors of the hospital.

There were no deaths from burns.
President Moon Jae-in convened an emergency meeting with top aides and called on the government to take "all the necessary measures" to help survivors.
Did the hospital have a sprinkler system?
Not according to director Song Byeong-cheol, who said the site is not large enough to require one under South Korean law.
He also said the hospital had regular safety inspections.
Interior Minister Kim Boo-kyum travelled to Miryang to apologise for the fire. He promised the government would do its best in helping the victims, according to the Yonhap agency.
Why did the fire start?
Officials say they are investigating the cause.
Have there been other fires like this?
Yes. In December, 29 people were killed in a blaze at an eight-storey fitness centre in Jecheon City.
Most of the victims were women trapped in a sauna by toxic fumes.
A 2014 fire at a rural hospital for chronically-ill elderly patients killed 21 people.