Senate confirms Powell as next Federal Reserve chairman
Comments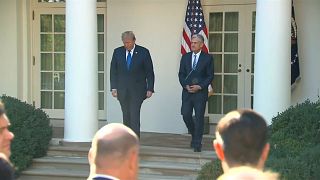 The next head of the Federal Reserve has been confirmed after lawmakers overwhelmingly approved Jerome Powell.
Powell was President Trump's top choice for the job as Fed Chair. He is widely seen as a safe pair of hands and someone who backs low interest rates, though some fear he could face interference.
Speaking from the World Economic Forum in Davos, Switzerland, former IMF chief economist Kenneth Rogoff said: "The person he (Trump) appointed, Powell, is really quite ok but what scares me is that the stock market might fall, say 20%, and then Donald Trump says I don't like that, don't you dare raise interest rates and hurt my beautiful stock market and the Federal Reserve saying we we don't manage the stock market, inflation is going up, the economy is going well and that's when I start to worry."
Powell was nominated by Trump in November and is set to take over from outgoing Fed Chair Janet Yellen in February.