Watch: Heavy snow takes centre stage at Davos
Comments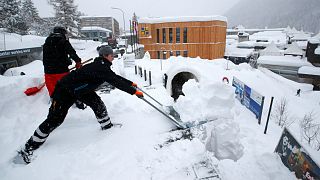 Political tensions have taken a back seat at this year's World Economic Forum as organisers struggle to deal with snow burying the venue.
Many of the roughly 3,000 delegates struggled to reach Davos as snow buried part of the main train line to the ski resort, forcing people onto buses, while helicopters were disrupted by poor visibility.
Many of those arriving by limousine had to wait for road crews to dig them out of the snow, while buisnessmen attending the elite gathering were seen slipping over on icy patches.
The extreme weather also meant that several pre-summit meetings were cancelled or delayed.
World Economic Forum communications chief Adrian Monck said it appeared to be the summit's heaviest snowfall since 1999-2000.
But, he said, it had not affected numbers of attendees.
"We know the snow causes inconvenience and it puts a lot of pressure on the city of Davos as a host but so far we have not seen any drop-off in registrations," he explained.