World Economic Forum opens in Davos
Comments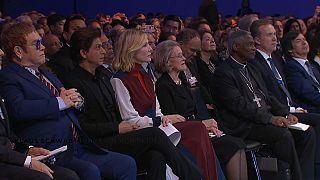 Davos founder Klaus Schwab welcomed delegates to the annual meeting of movers and shakers in the Swiss resort with an appeal for them to engage not just their brains but their hearts and souls as well as he addressed the meeting's theme of 'Creating a Shared Future in a Fractured World'
"We need collaborative efforts," he said. "No nation, no person, no stakeholder group alone can really address the complex global agenda in a constructive way."
Australian actress Cate Blanchett, who received an award for her work with refugees, highlighted the "alarming statistics" of almost 66 million human beings forcefully displaced around the world and warned of "divisive and polarizing language being used for political gain.
She called for a new way of responding to the crisis, with refugees seen less as victims and more as participants.
British pop star Elton John echoed Blanchette's call saying the world must never turn a blind eye to suffering and emphasized there was a need to redress the disgraceful inequalities in the world.
After the speeches, delegates enjoyed a world premiere performance led by La Scala's principal dancer étoile Roberto Bolle.