Mike Pence visits Western Wall amid tension with Palestinians
Comments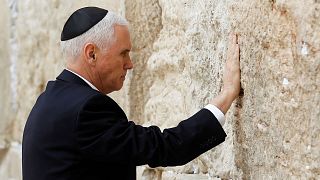 -
Copyright

REUTERS/Ronen Zvulun
US Vice President Mike Pence visited Jerusalem's Western Wall on Tuesday, stopping to pray at the holy site on the last leg of his three-day trip to the Middle East.
The visit came amid tension over President Donald Trump's decision to recognise Jerusalem as the capital of Israel – and just a day after Pence said the US would open its embassy there by the end of next year.
Many Palestinians went on strike and closed up shop for the day in protest against the visit.
"We prefer to close and to lose today the business and the work, and to pass this political message to them that Jerusalem is more important than business, work and money," said one man.
Pence toured Israel's Yad Vashem Holocaust memorial with Prime Minister Benjamin Netanyahu before visiting the Western Wall, one of Judaism's holiest sites. Pence stood solemnly with his hand on the wall and left a note in between its ancient stones, as people who pray there traditionally do.
The Western Wall is located in Jerusalem's Old City, which Israel captured in the 1967 war.
Israel considers all of Jerusalem its indivisible capital. Palestinians want East Jerusalem as the capital of a future state of their own.
Pence told Reuters in an interview that the timing of a US-led Middle East peace plan now depends on Palestinians agreeing to return to the negotiating table.
Palestinians have ruled out Washington as a peace broker after Trump's Dec.6 declaration on Jerusalem.
"The White House has been working with our partners in the region to see if we can develop a framework for peace," Pence told Reuters.
"It all just depends now on when the Palestinians are going to come back to the table."