British hijab model leaves L'Oreal campaign after 'anti-Israel' tweets
Comments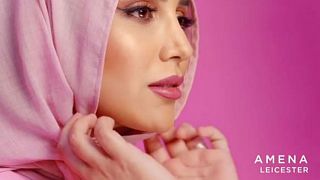 Copyright

amenaofficial/Instagram
UK beauty blogger Amena Khan has stepped down from a L'Oréal campaign after receiving criticism for 2014 tweets considered "anti-Israel".
Khan made public her decision to step down from the campaign in an Instagram post.
She said she took the decision to leave because she did not want "the current conversations to detract from the inclusive sentiment [the campaign] is set out to deliver".
An article published by Israeli i24 News included two examples of the deleted tweets:
"Since the situation for Palestinians is akin to the Holocaust, it's time the UN step in & carve them a state in another's country. Only fair."
"@joshfryman96 the level of persecution and brutality of massacre is absolutely comparable. Doesn't take much research to figure that out."
In an earlier interview, the blogger told the BBC's Newsbeat that she was "delighted" to be part of a "game-changing" shampoo campaign that shows her wearing a headscarf.
Khan said she hoped to aspire a sense of "belonging, acceptance and being seen" in young women who wear headscarves by featuring in the campaign.
In the Instagram post, Khan apologised for the contents of the tweets published in 2014. 
The blogger wrote she decided to delete the tweets because they "do not represent the message of harmony" she wants to promote.
She added she did not want to take away from the message of "inclusivity" the L'Oreal campaign represented.
A L'Oréal spokesperson told Euronews that while they "appreciated" Khan's apology, they agreed with her decision to leave the campaign.  "We have recently been made aware of a series of tweets posted in 2014 by Amena Kahn, who was featured in a UK advertising campaign. We appreciate that Amena has since apologized for the content of these tweets and the offence they have caused," said L'Oreal's statement. 
"L'Oréal Paris is committed to tolerance and respect towards all people. We agree with her decision to step down from the campaign."
Khan would have been the first woman in a hijab to feature in a major brand hair advertisement according to the BBC.