World Economic Forum in Davos battles snow... and awaits Trump
Comments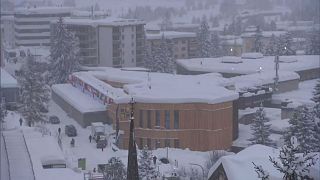 Euronews is running rolling coverage of this year's World Economic Forum in Davos, with in-depth interviews and analysis throughout the four-day summit.
"The sheer scale of the challenges our world faces makes concerted, collaborative and integrated action more essential than ever."

Founder and Executive Chairman, World Economic Forum
Heavy snow is making life difficult for organisers of the 48th World Economic Forum in Davos.
On the eve of this year's gathering of the world's elites, the Swiss resort advised some residents to seek alternative shelter because of heightened avalanche risk.
Organisers said the weather was improving, however.
Trump's closing speech
It's not just the weather jeopardising the success of this year's Forum, however. According to White House Budget Director, Mick Mulvaney, closing speaker, Donald Trump, may not attend unless the US Senate breaks the immigration deadlock at the root of a current government shutdown.
His absence would please those who've called for him to stay away unless he agrees to put the world, rather than America, first. The US President is widely expected to use the podium to defend his nationalist agenda.
There are other reasons for him to be defensive, too. The annual Edelman Trust Barometer, published on the eve of the summit, showed that trust in US institutions has plunged since Donald Trump took office.
Klaus Schwab, Founder and Executive Chairman of the Forum, said he nonetheless still expected Trump to attend.
What will the Forum discuss?
International security, the environment and the global economy will be key topics at the summit, the theme of which is "Creating a Shared Future in Fractured World".
These subjects will be discussed by a who's who of world leaders.
Borge Brende, President, said:
"We have 3,000 participants coming together at a time where we see a lot of geopolitical challenges. At the same time, we see that growth is back in the global economy. And to discuss this here in Davos, we have 70 heads of states and governments, we have also the leading business people of the world, but also the most prominent representatives from civil society."