Pope Francis apologises to sexual abuse victims
Comments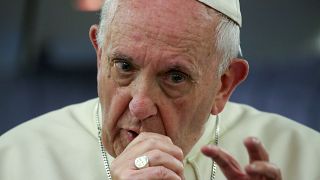 In a rare act of self-criticism Pope Francis has apologised for comments made during his South America trip, he admitted 'wounded many'.
On Thursday (January 18), the Pontiff said people who had accused a Chilean bishop of protecting a notorious paedophile were committing slander.
But on the flight back from Peru to Rome, he acknowledged
"I know how much they (abuse victims) suffer in hearing the Pope say to them 'bring me a letter with the proof,' I realise that it is a slap in their faces, and now I realise that my expression was an unfortunate one, because I did not mean it", he said, adding "What I meant is that I can't condemn Bishop Barros because I don't have evidence and because I am convinced he is innocent."
Francis left Peru after celebrating an open air Mass for more than one million people in the capital. It ended a visit which has been marked by tough talk on corruption but also a backlash over what many see as the pontiff's insufficient resolve to tackle sexual abuse in the Church.