French chef Paul Bocuse dies aged 91
Comments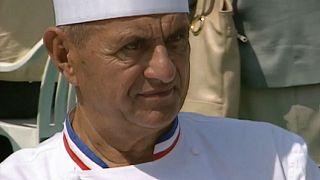 Celebrated chef Paul Bocuse, nicknamed the pope of French gastronomy, has died aged 91.
Gerard Collomb, Lyon'´s former mayor and now France's interior minister, announced the news on Twitter: "Paul Bocuse is dead, gastronomy is in mourning.
"Mr Paul was France: simplicity and generosity; excellence and the art of living.
"The pope of gastronomy has left us. Powering our chefs in Lyon, like in the four quarters of the world, they have cultivated the fruits of his passion."
Bocuse ﹘ born in Lyon where he has several restaurants and a cookery school ﹘ was an early exponent of "nouvelle cuisine", which reinterpreted traditional French cooking using less butter and cream and focusing on fresh ingredients and stylish presentation.
He was born into a family of chefs who had passed on family recipes and culinary secrets since the 17th century.
Bocuse began cooking at the age of 15. "I love butter, cream and wine," he said, and by 1958 he had his first Michelin star. He would go on to win two more of the prized supreme accolades, and from his base in Lyon, he began to train a whole new generation of chefs.
"La nouvelle cuisine" flourished, despite Bocuse's love of traditional ingredients and long cooking times, and the new style would become associated with him.
The Bocuse brand became so strong kings, queens, and presidents would flock to his table.
French President Emmanuel Macron also paid homage to Bocuse in a tweet: "Paul Bocuse is no longer here. Chefs are crying in their kitchens, at the Élysée and everywhere in France. French gastronomy will continue to make him proud."