Schiphol airport cancels flights as storm lashes Europe
Comments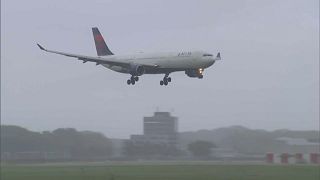 All flights to and from Amsterdam's Schiphol airport were suspended on Thursday due to a severe storm battering north west Europe.
The hub, one of Europe's busiest, saw 260 planes grounded amid wind gusts of 140 kilometres per hour (90mph).
"Due to severe weather conditions: all air traffic has been suspended until further notice," the airport tweeted.
Schiphol later resumed some flights but the temporary halt caused travel chaos.
Trains, trams and buses were also stopped across The Netherlands after a 'code red', the highest weather alert, was issued for large parts of the country.
Dutch police said three people were killed on Thursday by falling trees or debris in separate incidents.
Another person was reported dead in Belgium.
Along the coast in Rotterdam, shipping containers were toppled and entire roofs ripped off homes.
Rail services were also stopped in Germany's Ruhr region as the storm moved inland.