Self-driving cars could be held back by U.S. regulation
Comments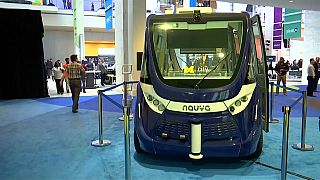 New technology for self-driving cars is progressing so quickly, current legal regulations are struggling to keep up.
That's the message at the North American International Auto show in Detroit, where companies are showing off their futuristic concepts.
Modern car company, Navya, says 65 driverless vehicles are being piloted around the world, including on campus at the University of Michigan and in test programmes in Las Vegas.
Aaron Foster, Business Development Manager for Navya North America, said; "We've got several systems that make the vehicle able to perceive its environment, make the decisions and then act upon those decisions."
Auto makers are investing in autonomous technology and see the tremendous revenue potential in the industry such as e-commerce, infotainment, large-scale usage at airports, theme parks and in ride-sharing services.
But there are concerns current car regulations in the US are holding the technology back.
President Donald Trump's administration says they plan to revise guidelines for self-driving vehicles in the Summer.
Analysts say leading car firms like Ford and General Motors are also choosing to invest heavily in this emerging industry.