Pope Francis has expressed his "pain and shame" over past Catholic Church sex abuse scandal in Chile
Comments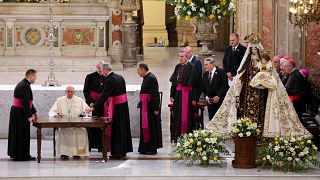 Pope Francis expressed his "pain and shame" over Chile's sexual abuse scandal on Tuesday in his first comments in the country on a crisis that has scarred the Roman Catholic Church's credibility.
Francis was making his first official address of the trip in the presence of President Michelle Bachelet, other Chilean officials and foreign diplomats.
"Here I feel bound to express my pain and shame at the irreparable damage caused to children by some ministers of the Church," he said in the presidential palace, drawing sustained applause from his listeners.
"I am one with my brother bishops, for it is right to ask for forgiveness and make every effort to support the victims, even as we commit ourselves to ensuring that such things do not happen again," he said.
Catholics have been upset with Francis' 2015 appointment of Bishop Juan Barros to head the small diocese of Osorno in south-central Chile. Barros has been accused of protecting his former mentor, Father Fernando Karadima, whom a Vatican investigation found guilty in 2011 of abusing teenage boys over many years. Karadima has denied the allegations and Barros said he was unaware of any wrongdoing.
But the scandal has gripped Chile, and, along with growing secularization, has hurt the standing of the Church that had been praised for defending human rights during the 1973-1990 dictatorship of Augusto Pinochet.