Dozens hurt as floor collapses at Jakarta Stock Exchange
Comments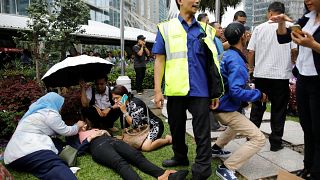 Reports from Indonesia say dozens of people have been injured after a floor collapsed at the stock exchange in the capital Jakarta.
A mezzanine floor overlooking the main lobby fell in, Reuters reports. Many were injured when they were caught under slabs of concrete and debris. Those hurt are said to include many visiting university students.
Images circulating on social media show what looks like a mangled metal structure. It is said to have collapsed around a Starbucks café near the entrance to the lobby of the building.
"The second floor of the building has collapsed," Reuters quoted a personal assistant to the exchange's president as saying.
People were seen running from the building and TV pictures showed people being treated for apparent injuries on the steps outside.
A Reuters witness said around a dozen injured people were seen being carried from the building on stretchers.
Police ruled out a bomb as the cause of the collapse and said that at least 77 people had been injured.
No deaths have been reported but a spokesman from a nearby hospital said it had registered 30 people.
It happened with the markets in midday break. Police cordoned off the complex.
The high-rise building, constructed in the late 1990s, is part of a two-tower complex also housing offices of the World Bank and the International Finance Corporation.