Hundreds attend anti-austerity protests in Tunisia
Comments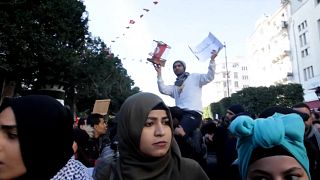 It is the seventh anniversary of the popular uprising in Tunisia in 2011 that triggered the so-called "Arab Spring", but people today were not in the mood to celebrate.
Anti-austerity protests brought hundeds onto the streets of Tunis amid a heavy police presence.
Tunisia has been forced down the austerity road to get access to international loan finance.
"Today we are here seven years after the revolution to say 'no' to the government and the 2018 budget", said one young mother.
"I'd like to tell the government that we can't eat and our baskets are empty. We have nothing left to eat," said an older woman.
"We are here to express our opposition to this new financial package. We are also here to express our pride in our revolution, in our people, and our Tunisia," was the opinion of the Tunisan Popular Front's Hama Elhamami .
Police kept supporters of the opposition Popular Front and the Islamist Ennahda party, part of the ruling coalition, apart.
The government and Ennahda accuse the Front of being behind some of last week's violence.
President Béji Caïd Essebsi has visited some of the areas in Tunis where violence broke out.
"Today, just like seven years ago, Tunisians are in the streets, making the same demands," reports euronews' Zineb Ben Zita.