Russia reinforces military presence in Crimea
Comments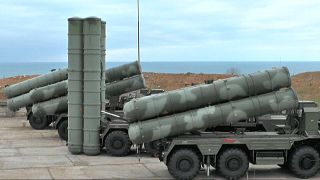 Military reinforcements are being ramped up in Crimea, despite last month's (December 2017) extension of economic sanctions on Moscow.
Local media report Russia has deployed a new division of S-400 surface-to-air missiles on the peninsula, which it controversially annexed from Ukraine in 2014.
"This S-400 missile launcher allows us to locate targets in the range of up to 600 km. So even when missiles reach the borders of Crimea, we will clearly see them", Major Yevgeny Markelov explained.
Sevastopol MP, Dmitry Belik added:
"We have seen recently more frequent threats to our territory. We have seen an attempted drone attack on our base in Tartus in Syria. So today's deployment of S-400 missile systems covers all the air space over Crimea, and it makes impossible for drones, planes or any other flying machines here."
Interfax news agency quotes the Russian military as saying the new system – known as "Triumph" – can be turned into combat mode in less than five minutes.
The deployment is likely to escalate tensions in the region. In December, the US promised to provide Ukraine with 'enhanced defensive capabilities' said to include Javelin anti-tank missiles.
Both Washington and the European Union have slapped economic sanctions on Russia in the wake of the annexation of Crimea.