Hawaii did not have 'reasonable' safeguards to stop false missile alert, says regulator
Comments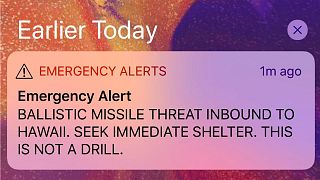 Copyright

TWITTER @wpugh/via REUTER
Hawaii did not have "reasonable" safeguards in place to prevent the false missile alert that sent the state into panic on Saturday morning, the US communications regulator has warned.
People in Hawaii received a message on their mobile phones shortly after 8am local time on Saturday, reading: "BALLISTIC MISSILE THREAT INBOUND TO HAWAII. SEEK IMMEDIATE SHELTER. THIS IS NOT A DRILL."
The error was corrected around 20 minutes later by email, but it took 38 minutes for a follow-up text to be issued.
In a statement on Sunday, Federal Communications Commission (FCC) Chairman Ajit Pai said the error was "absolutely unacceptable."
"It caused a wave of panic across the state—worsened by the 38-minute delay before a correction alert was issued," Paj explained.
An investigation by the FCC has so far shown that the government of Hawaii "did not have reasonable safeguards or process controls in place to prevent the transmission of a false alert," he added.
Pak called on federal, state and local officials across the US to work together to identify any vulnerabilities to false alerts and stop them.
"We also must ensure that corrections are issued immediately in the event that a false alert does go out," he warned.
Hawaii Governor David Ige has said the state is doing "everything we possibly can to prevent this from happening again."
"I know firsthand how today's false notification affected all of us here in Hawaii, and I am sorry for the pain and confusion it caused," he wrote on Twitter.
"I encourage all of us to take stock, determine what we all can do better to be prepared in the future-as a state, county and in our own households. We must also do what we can to demand peace and a de-escalation with North Korea," he added.
The false missile alert on Saturday came at a time of heightened tensions between Washington and Pyongyang.
North Korean leader Kim Jon-un has claimed recently to have developed a ballistic missile capable of striking all of the US mainland, while earlier this month US President Donald Trump boasted that he had a "much bigger" and "more powerful" nuclear button than Kim.