FCC to probe mistaken Hawaii ballistic missile alert
Comments
By Phil McCausland with NBC News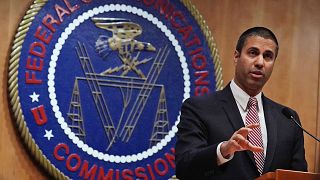 -
Copyright

Alex Wong Getty Images file
The Federal Communications Commission chairman said that his agency planned to investigate the false ballistic missile warning that terrified residents of Hawaii on Saturday morning.
"We have been in close contact with federal and state officials, gathering the facts about how this false alert was issued," FCC Chairman Ajit Pai said on Sunday. "Based on the information we have collected so far, it appears that the government of Hawaii did not have reasonable safeguards or process controls in place to prevent the transmission of a false alert."
The high-stakes alert error came just days after Pai on Tuesday announced an upgrade and expansion of the same wireless emergency alert system that awoke many of those in Hawaii on Saturday.
"Wireless emergency alerts (WEA) are one of several key tools to warn the public of imminent danger when disaster strikes," Pai said in a statement on Tuesday. "That's why the Commission has been working hard to make them more effective."
But that system went awry when a frightening all-caps alert appeared on residents' phones early Saturday warning them, "Ballistic missile threat inbound to Hawaii. Seek immediate shelter. This is not a drill."
Related: Hawaii 'ballistic missile threat' alert to phones was false alarm, officials say
Hawaii's Emergency Management Agency sent out a new alert 38 minutes later that said the warning had been sent in error. Hawaii Gov. David Ige later clarified in a press conference that an individual had accidentally sent out the alert.
Sen. Brian Schatz, D-Hawaii, commended Pai for opening an investigation. "This system failed miserably and we need to start over," Schatz said in a tweet.
Since 2012, the Wireless Emergency Alerts system has been used more than 33,000 times to warn people across the country of severe weather, evacuation orders, shelter-in place alerts and Amber Alerts, the FCC said in Tuesday's report.
But in Hawaii that is only one part of the alert system that residents rely on to learn about potential imminent dangers.
According to a November Hawaii Emergency Management Agency public service announcement, the state normally conducts a test of the Attention Alert Signal on the first business day of each month. Typically that test includes the use of two warning sirens that last one-minute each.
As of Dec. 1, 2017, the government reinstateda separate Attack Warning Signal — a one-minute wailing tone to warn of a potential missile strike that was first installed after Pearl Harbor. Across the state, a few, but not all, of those signals rang on Saturday when the errant alert was sent those in Hawaii.
None of them should have sounded, Hawaii Emergency Management Agency Administrator Vern Miyagi explained to reporters on Saturday. Those alerts run on an entirely different system and would be initiated by a separate individual.
He explained that his team planned to investigate and produce a report on the subject.
Related: Hawaii reinstates 'attack warning' siren to prepare for possible North Korean missile
Gov. Ige also added that the state would be looking into why some people did not receive an alert on their phones via the Wireless Emergency Alert system.
"We are committed to providing the public with a good notification system," said Ige. "We do understand that there is a short window for us to inform the public and for them to respond. We do encourage the public to follow the recommendations if this should happen: to get inside, stay inside and get informed. We are already taking action to ensure this doesn't happen again."
The governor and EMA administrator said they had suspended regular testing of the Wireless Alert System until fixes could be put in place to avoid the error made Saturday morning.
"Emergency alerts are meant to keep us and our families safe, not to create false panic. We must investigate and we must do better," FCC Commissioner Jessica Rosenworcel tweeted on Saturday.
The FCC was expected to vote on a proposal that would expand the reach of the Wireless Alert System later this month.
Many of the proposed changes would not go into effect until Nov. 30, 2019, but they would allow alerts to target specific areas with increased detail, preserve alert messages for at least 24 hours, and require participating wireless providers to "best approximate" when network infrastructure would not support their ability to target specific areas.
"This would encourage more local officials to use these alerts during emergencies as well as lead Americans to take more seriously the alerts they receive on their mobile devices," Pai said Tuesday.