White House doc: Trump in 'excellent health'
Comments
By Ali Vitali with NBC News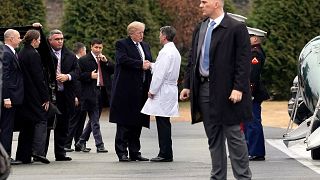 Copyright

Yuri Gripas Reuters

-
WASHINGTON — The doctor who conducted President Donald Trump's annual check-up said Friday the president was in "excellent health" and his physical exam earlier in the afternoon "went exceptionally well."
White House physician Ronny Jackson's short, 33-word statement gave no further details about the exam, which took place at Walter Reed National Military Medical Center Friday afternoon before Trump and the first lady left for a weekend in Florida. But Jackson promised to brief the press on "some of the details" Tuesday.
Trump predicted earlier in the week that the exam would "go very well" and he'd be "very surprised if it doesn't." He then quipped: "It better go well. Otherwise the stock market will not be happy."
Though candidates typically release some details of their medical history during their campaigns for the presidency, Trump bucked that trend.
In September 2016, Trump gave limited medical results to Dr. Mehmet Oz during an appearance on Dr. Oz's daytime TV show. At the time, he told Dr. Oz he had "no problem" sharing his medical results.
Prior to that, Trump's longtime physician Dr. Harold Bornstein predicted Trump would "be the healthiest individualever elected to the presidency" in a letter that he later told NBC News he wrote in just five minutes while a limo sent by the candidate waited outside his Manhattan office.