Trump gives 'last chance' ultimatum on Iran nuclear deal
Comments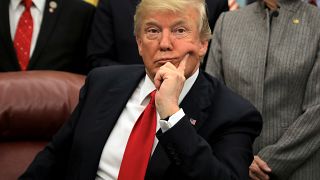 Waiving sanctions on Iran for what he says is the final time, President Donald Trump has warned that unless 'terrible flaws' in the 2015 nuclear deal are fixed, the United States will withdraw from it.
The ultimatum puts pressure on Europeans - key backers and parties to the international pact to curb Iran's nuclear programme – to satisfy Trump, who wants it strengthened with a separate agreement within 120 days.
In a statement, he told them: "This is a last chance" and said that if his warning goes unheeded, Washington will not again waive sanctions in order to stay in the accord.
Trump has called the deal "the worst ever". He wants a more aggressive approach to Iran over its nuclear and ballistic missile programmes.
Iranian Foreign Minister Mohammad Javad Zarif responded, saying that the deal is not renegotiable and that Trump's stance amounts to "desperate attempts to undermine a solid multilateral agreement".
On Thursday Britain, France and Germany urged Trump to uphold the pact.
The EU said in a statement on Friday that it had taken note of Trump's decision and would assess its implications.
Germany said it remains committed to the "continued full implementation of the agreement" but would "talk to our European partners about next steps".
Underscoring the difficulty now facing Europeans, a European diplomat, speaking under condition of anonymity, said: "It's going to be complicated to save the deal after this".
Iran insists its nuclear programme is only for peaceful purposes. It says it will stick to the agreement as long as the other signatories respect it but will "shred" it if Washington pulls out.
Hailed by former US President Barack Obama as key to stopping Iran from building a nuclear bomb, the deal lifted economic sanctions in exchange for Tehran limiting its nuclear programme but Trump has argued that Obama negotiated a bad deal.
The US Congress requires the president to decide periodically whether to certify Iran's compliance with the deal and issue a waiver to allow US sanctions to remain suspended.
Trump in October chose not to certify compliance and warned he might ultimately terminate the accord. He accused Iran of "not living up to the spirit" of the agreement even though the International Atomic Energy Agency says Tehran is complying.
While Trump approved the sanctions waiver, the Treasury Department announced new, targeted sanctions against 14 entities and people, including the head of Iran's judiciary, Sadeq Amoli Larijani, a close ally of Iran's Supreme Leader Ayatollah Ali Khamenei.
*with Reuters *