Anti-austerity protests in Tunisia's capital
Comments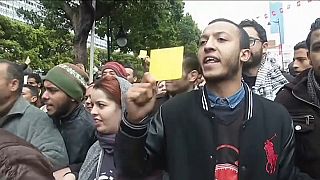 Around two hundred protestors marched through the streets of the Tunisian capital to demonstrate against austerity measures introduced by the government at the beginning of the year.
Waving yellow cards, the demonstators were following a call from the "What are we waiting for" campaign which wants the Finance Act to be withdrawn .
Prices have increased for fuel and some consumer goods, while taxes on cars and other items have also gone up.
Scuffles broke out with riot police as protestors marched on administrative offices in the capital.
Tunisian authorities say the number of people detained in the wave of violent protests to sweep the country since Monday has risen to nearly 800.