Farage calls for second Brexit referendum
Comments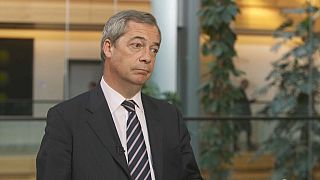 Nigel Farage has said that he thinks there should be a second referendum on Brexit. 
The revelations came on UK Channel 5 TV show, 'The Wright Stuff'.
"What is for certain that the Cleggs, the Blairs, the Adonis' will never give up ... I'm reaching the point of thinking that we should have a second referendum on EU membership."
Farage tweeted after the show, saying: "Maybe, just maybe, we should have a second referendum on EU membership. It would kill off the issue for a generation once and for all."
The prominent Brexit campaigner has previously been adamant that there should not be another referendum, and instead, the UK government should get on with giving the people what they voted for. 
But as the process has moved forward, hard-line Brexiteers have been disappointed by the concessions which negotiators have had to make. The realisation that they might not have the hard Brexit they desire has seen them scrambling for a different tack.
Britain's Theresa May's office has responded by saying that Britain will not be holding a second referendum, reinforcing the position she has followed since becoming Prime Minister.