Trump: I'd 'beat Oprah' in 2020 presidential match-up
Comments
By Adam Edelman with NBC News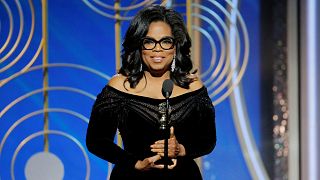 Copyright

Paul Drinkwater NBCUniversal

-
President Donald Trump said Tuesday he would beat Oprah Winfrey in any prospective 2020 presidential faceoff — and that such a race would "be a lot of fun."
"Yeah, I'll beat Oprah. Oprah would be a lot of fun. I know her very well," Trump told reporters following a bipartisan gathering of congressional leaders in the White House cabinet room.
"I like Oprah," he said. "I know her very well."
Trump, however, added that he felt Winfrey wasn't likely to enter the race.
"I don't think she's going to run."
Speculation surrounding a possible 2020 bid by Winfrey exploded following the mogul'sheadline-grabbing remarks at the Golden GlobesSunday night.
In the wake of that speech, Winfrey's longtime partner Stedman Graham seemed to leave the idea of a Winfrey campaign open as a possibility.
"It's up to the people," Graham told The Los Angeles Times. "She would absolutely do it."
Winfrey herself has previously denied that she would run for office, and a source close to her said this week she had no intention of entering presidential politics in 2020.
"It's not happening. She has no intention of running," the source said.
It's unclear whether Trump watched Winfrey's Sunday speech, but the White House, reacting to the latest Oprah boomlet, said Monday that the administration would relish such a match-up.
"We welcome the challenge, whether it be Oprah Winfrey or anybody else," White House Deputy Press Secretary Hogan Gidley told reporters aboard Air Force One Monday.
White House Press Secretary Sarah Huckabee Sanders told reporters Tuesday that if Winfrey — like candidate Trump, a Washington outsider with no prior political experience — were to run, she'd have to lay out her policy positions, and that the Trump administration would be likely to oppose many of them.
"Is she a successful individual? Absolutely. In terms of where she stands, I'd find a lot of problems with that," Sanders said.
Trump himself has praised Winfrey on several occasions. He even once floated her — back in 1999, well before his own official entry into politics — as a possible vice presidential pick if he ran for president in 2000. He did so again in 2015 in an interview with ABC.