Greek and Italian leaders discuss migration ahead of Southern Europe summit
Comments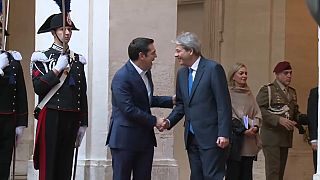 Greek Prime Minister, Alexis Tsipras has met with his Italian counterpart, Paolo Gentiloni ahead of the fourth summit of Southern European countries in Rome.
The two leaders, who's countires are at the front line of migratory flows, discussed ways to better distribute the migration burden within the European Union.
Greece and Italy have long been engaged in a tug of war with parts of Central Europe, the so-called "Visegrád group" (Poland, Czech Republic, Slovakia and Hungary), who are opposed to the sharing of refugees among all European partners.
The 4th Summit of Southern European Union Countries was attended by the leaders of Cyprus, France, Greece, Italy, Malta, Portugal and Spain, who represent one-fourth of EU member states and contribute to 41% of the EU's budget.
The leaders - Italian Premier Paolo Gentiloni, French President Emmanuel Macron, Greek Prime Minister Alexis Tsipras, Spanish Prime Minister Mariano Rajoy, Maltese Prime Minister Joseph Muscat and Cypriot President Nikos Anastasiadis - have previously met in Athens, Lisbon and Madrid.
The main aim is to strengthen the united front on topics such as migration, the Economic and Monetary Union (EMU), and growth and investments in 2018, considered a critical year for the European Union.
After the bilateral meeting between the Greece and Italy anticipation is growing for the results of the Villa Madama summit, where they will try to find common ground on terrorism, innovation and energy.