Mudslides threaten California areas scorched by wildfires
Comments
By Daniella Silva with NBC News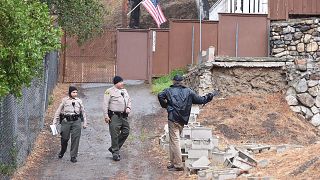 Copyright

LA County Sheriff's Office

-
Mudslides and flash floods, or at least the potential for them, raised new danger for Southern California on Monday as mandatory evacuations were issued for regions already devastated by wildfires and now facing the first major rainstorm of the season.
"This strong storm is expected to produce heavy rain, high winds and extremely dangerous flash flooding, mud and debris flows," Santa Barbara County officialswarned. "Flash floods, mud and debris flows can happen with little or no warning."
On Monday afternoon, light to moderate rain had spread over much of Santa Barbara, Ventura and Los Angeles counties, according to the National Weather Service office in Los Angeles.
By 4:20 p.m. (7:20 p.m. ET) the weather servicesaid on Twitter that "widespread rain" across the Los Angeles Basin would affect the Monday evening commute.
Heavier rain was expected for Tuesday morning's commute, the service said.
"Be prepared for potential road closures and travel delays due to flooding, debris flows, and mud/rock slides," the service said in its tweet**.**
The weather service saidthe heaviest rainfall was expected in Santa Barbara County from 10 p.m. to 7 a.m., in Ventura County from 12 a.m. to 9 a.m. and in Los Angeles County from 2 a.m. to 11 a.m..
Peak rainfall rates of half an inch and an inch an hour up to 1.5 inches an hour were possible.
Santa Barbara County officials issued evacuation orders beginning at noon Monday for areas below the burn areas of the Thomas, Whittier, Sherpa and Rey fires "due to an approaching winter storm."
By Monday afternoon, mandatory evacuations were also underway in parts of Los Angles County, Kathryn Barger, the Los Angeles County supervisor representing the 5th District, said on Twitter. The evacuations were spurred "in anticipation of heavy rains and mudslides," she said.
In Ventura County, officials ordered mandatory evacuationssome residents on Monday afternoon**.**
Several inches of rain were expected in Santa Barbara and Ventura counties — areas that were scorched by the Thomas fire and other recent wildfires stoked by dry Santa Ana winds.
The Thomas fire is the largest wildfirein California history, fire officials have said. The blaze, which has burned more than 280,000 acres since it broke out on Dec. 4, is blamed for at least two deaths.
The fire was about 92 percent contained as of Monday night, according to the joint local-state-federal incident management team.
Steady rain fell Monday in Northern California,NBC Bay Area reported.That storm spread light rain across the southern part of the state early Monday, according to NBC Los Angeles. A heavier band of rain was expected to move into the center of the state Monday night and then makes its way south, the The Weather Channel reported.
The National Weather Service issued a flash flood watch for recent burn areas Monday night and through Tuesday.
"The first significant storm system is expected to move into Southern California today into Tuesday," the NWS said on Monday.
The service warned residents of areas affected by the wildfires that "debris flows will occur tonight into Tuesday, when highest rainfall rates are expected."
In the foothills and the mountains, 4 to 7 inches of rain were expected, with some isolated totals of up to 9 inches,the NWS said.
"This could be a critical event for folks out there," said Roy Lucksinger, principal meteorologist atThe Weather Channel.
"This is the first significant rain the area has had in some time. It's the first where they've had to be concerned about the fire scarred areas of the hills," he added. Lucksinger said flooding and mudslides were always a concern in the foothills and that mountains "when rain comes down quickly in a short amount of time like that."
Lucksinger said the rain would fall primarily on Monday into Tuesday around midday, with some lingering through the day.
"We're looking at a period of 24 to 36 hours where the rain is going to move through," he said.