Macron appeals to China over climate change and boosting ties
Comments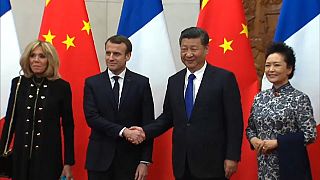 Emmanuel Macron has met with his Chinese counterpart Xi Jinping in Beijing, as he starts a three day state visit to the country.
Macron's agenda during this visit includes combating climate change, the North Korean crisis and combating terrorism – particularly in Africa, where Paris hopes to obtain Beijing's support for the G5 Sahel military force.
During their meeting, Macron welcomed the commitment of the world's leading polluter to the fight against global warming and said he had called on his hosts to "relaunch the climatic battle".
Macron then visited Xi'an, an eastern departure point of the ancient Silk Road, hoping to relaunch EU-China relations often strained by Beijing's restrictions on foreign investment and trade.
Upon his arrival in Xi'an, Macron met with Hu Heping, secretary of the Communist Party of China (CPC) Shaanxi Provincial Committee, where the French president vowed to deepen pragmatic cooperation with China and the province in areas of commerce and trade, industry, science and technology, medical care and agriculture.
For his part, Hu called for deeper exchanges between Xi'an, an eastern starting point of the ancient Silk Road, and France.
Macron then visited the Terracotta Warriors Museum with his wife Brigitte and later he delivered a speech on French-Chinese relations in the Daming Palace National Monument Park.
He also visited the Dacien (Great Mercy and Grace) Temple where the famous Giant Wild Goose Pagoda is situated, and the Great Mosque of Xi'an.
On Tuesday and Wednesday, Macron will visit the Forbidden City, meet top Chinese officials and oversee the signing of business deals