A crunch, a fire, and panic: planes collide at Toronto airport
Comments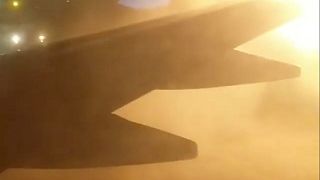 -
Two planes collided on the ground at Toronto's Pearson International Airport on Friday night (Jan. 5), causing a small fire and forcing passengers to evacuate on emergency slides.
The collision between the two planes from Sunwing Airlines and Westjet Airlines happened at 6:19 p.m. local time (2319 GMT), the Greater Toronto Airport Authority said in a statement.
WestJet Flight 2425 had just arrived from the Mexican resort of Cancun with 168 passengers and six crew on board, and was waiting to proceed to the gate when a Sunwing aircraft backed into it.
Sunwing, part of the privately held Sunwing Travel Group, said there were no passengers or crew onboard its plane at the time of the collision, and that the aircraft was being towed by ground handler Swissport International Ltd.
No injuries were reported on either flight, but one member of the Toronto Pearson Fire and Emergency Service was hurt and taken to hospital, according to Canada's national public broadcaster CBC News.
'It was chaos inside the plane'
One passenger on board WestJet's Boeing 737-800, identified as Gustavo Lobo, told CBC News how things unfolded:
"Out of nowhere there was an audible crunch and the plane rocked slightly," Lobo told the broadcaster.
"We looked out the window and saw that the plane had backed up into us. Everyone was a little shocked and kind of chuckling at the situation."
"Panic set in when [we saw] what seemed to be fuel spewing from the crash. After a couple of seconds the entire thing ignited and it was chaos inside the plane. People screaming and panicking all while the flight attendants shouted to try and control the situation."
Toronto's Pearson Airport said on Twitter that some flight operations had been impacted by the incident and an investigation was underway.
It added that operations were also being challenged by the extremely cold weather. The temperature in Toronto was around -20 degrees Celsius.