Manafort sues Mueller, DOJ, Rosenstein over Russia probe
Comments
By Julia Ainsley and Tracy Connor with NBC News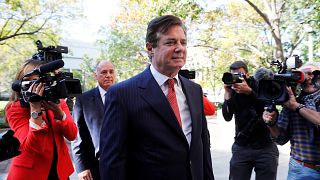 -
Copyright

Aaron P. Bernstein Reuters
WASHINGTON — Former Trump campaign chairman Paul Manafort filed a lawsuit against special counsel Robert Mueller, Deputy Attorney General Rod Rosenstein and the Justice Department in federal court on Wednesday, arguing that the investigation that charged him is operating outside the law.
In a complaint filed in federal court in Washington, Manafort also disclosed that the Justice Department and FBI were looking into his overseas lobbying work in 2014 while assisting the Ukrainian government in "locating stolen assets."
After speaking with them — voluntarily, he said — he wasn't charged. But he was indicted in connection with that same work three years later as part of Mueller's investigation even though the alleged crimes are not tied to Russian meddling in the U.S. election.
Manafort and his business partner Rick Gateswere indicted by a federal grand jury in October on 12 counts, including conspiracy to launder money and failure to register as a foreign agent, for their work as lobbyists on behalf of a Ukranian political party.
The suit argues that the authority Deputy Attorney General Rod Rosenstein gave Mueller when he appointed him to investigate possible ties between the Trump campaign and Russia was too broad. Rosenstein gave Mueller the authority to dig into "any matters that arose or may arise directly from" that investigation.
"This is just a joke. It goes nowhere."
"That exceeds the scope of Mr. Rosenstein's authority to appoint special counsel as well as specific restrictions on the scope of such appointments," the lawsuit said, arguing that Mueller has been given "carte blanche" to investigate "anything he stumbles across while investigating, no matter how remote."
"The actions of DOJ and Mr. Rosenstein in issuing the Appointment Order, and Mr. Mueller's actions pursuant to the authority the Order granted him, were arbitrary, capricious, and not in accordance with the law," the suit charged. "Like the independent counsel statute that came before it, this Appointment Order 'ought to be shoved firmly back in the ice from which it was initially untombed.'"
Special Counsel spokesman Peter Carr declined comment. A spokesperson for the Justice Department said in a statement that "the lawsuit is frivolous but the defendant is entitled to file whatever he wants."
Nick Akerman, a partner at Dorsey & Whitney and a former Watergate prosecutor, agreed with the Justice Department.
"This is just a joke," he told NBC News. "It goes nowhere."
Akerman said the suit even quoted a regulation that makes it clear Mueller has the authority to investigate new matters he uncovers, with the Attorney General deciding whether he keeps the case or it gets assigned elsewhere.
He theorized that the suit could be a way for Manafort to get around a gag order that the judge in the criminal case has imposed. If so, Akerman said, the court could sanction his attorneys.
"This is ridiculous," Akerman said. "There is nothing that straitjackets Mueller."
The suit asks that a federal judge place an injunction on Rosenstein, Mueller and the Justice Department to restrict them from performing their duties.
Unlike Manafort, Trump's former National Security Adviser Michael Flynn pleaded guilty to lying to the FBI in December and is believed to be cooperating with investigators.