Iran's Revolutionary Guard deploys forces to quell unrest
Comments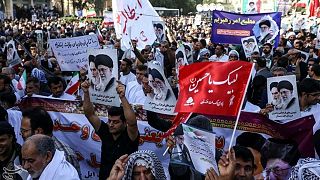 -
Copyright

Tasnim News Agency/Handout via REUTERS
In Iran, thousands of people have joined pro-government rallies to counter growing unrest.
Across several cities, the state-sponsored show of force, comes after six days of protests that have left 21 people dead.
In his latest tweet on the country's turmoil, US President Donald Trump futher sought to isolate the Tehran leadership. He said Washington would throw its support behind the demonstrators at an "appropriate time." 
Iran's Supreme Leader Ayatollah Ali Khamenei has accused Iran's adversaries of fomenting the protests, some of which have criticised him by name and called for him to step down.Tehran's been free of demonstrations but people here are very much aware of the economic difficulties faced by some in Iran's poorer regions.
"Protesters are divided into two groups: one group is really protesting and the other is rioting. The first thing the government must do is make a distinction between protesters and rioters," said student Mohammad Hossein Vakili
Accountant Parvaneh Alizadeh sounded a note of caution: "If the protest slogans are insulting, nothing is going to be resolved. On the other hand, my husband and I are working together but still cannot make ends meet. The reality is that peaceful protests do exist in other countries and it is quite natural for people to protest."
Iran's elite Revolutionary Guard says it has deployed forces to three provinces to quell what its described as the "new sedition." An official in Iran's hardline judiciary warned that some of those arrested could face the death penalty.
In a sign of official concern about the resilience of the protests, the Revolutionary Guards commander, Major General Mohammad Ali Jafari, said he had dispatched troops to Hamadan, Isfahan and Lorestan provinces.
Most of the casualties among demonstrators have occurred in those regions of the sprawling Islamic Republic.