Eight elements behind the protests in Iran
Comments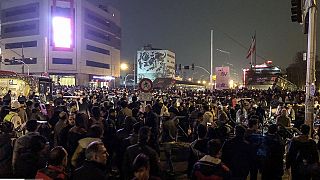 There are three principal themes behind the recent protests in Iran.
Perhaps the biggest is the **social **problem of inequality. The lifting of sanctions as a result of the 2016 nuclear accord, raised many expectations but the benefits have been narrowly distributed, mainly linked to the oil industry, which is closely controlled by the ruling elites.
The current economic and political situation has then fuelled the crisis. Below is a snapshot of eight factors that have helped spur the current protests.
1) Inflation
While inflation overall has fallen from a peak of 40 percent to closer to 10 percent now, certain products have seen sharper increases in price. Poultry costs have spiked following a bird flu outbreak with eggs costing more than twice as much as they did a year ago. Imported goods have also got much more expensive as the currency, the Rial dropped in value.
2) Unemployment
Overall unemployment is officially around 12 percent and double that among young people. Even having work is no guarantee of a reliable income. Poor wages mean second jobs are common and a cash crunch caused by problems in the banking system has resulted in large numbers of workers missing out on their salary payments.
3) Financial Institutions
A number of credit companies including Mizan, Fereshtegan and Samen al-Hojaj have been shut down after racking up bad debt leaving millions waiting to see what they could recuperate from their savings.
4) Corruption
High profile cases of fraud, corruption and abuse of power such as that of banker Mahmoud Khavari, businessman Babak Zanjani and judge Saeed Mortazavi have been a source of resentment for citizens struggling to get by. The cases have highlighted mal-practice at the highest levels of society.
5) Pollution
Towards the end of last year, Tehran made headlines as schools were forced to close due to high levels of pollution, but the issue is by no means confined to the capital. For many Iranians, the issue of a degraded environment is another example of a government that is failing to deliver despite the resources at its disposal.
6) Foreign wars
Iranians have seen their government spending vast amounts of money on wars in Syria and Yemen, where Iranians are dying and yet can identify little benefit for themselves. Images of Iranian families left freezing and homeless after an earthquake on the border with Iraq last month, prompted questions about whether the government cares as much about its own people as it does about its neighbours.
7) Liberalisation in the region
Saudi Arabia has grabbed the headlines with limited moves to empower women in the kingdom while Iranians do not see a similar dynamic in their own country. In addition, state TV's espousal of hardline causes and conservative values has fostered resentment
8) Political feuding
A bitter and long-running dispute between former president Mahmoud Ahmedinejad and the powerful Larijani brothers has increased tensions, as each side seeks to highlight mismanagement and alleged crimes perpetrated by the other.