Records smashed as America shivers
Comments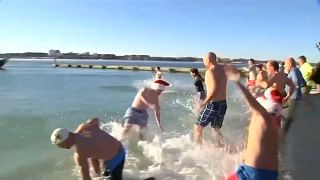 Most of the United States, some 90% of the country, is in the grip of a freeze so deep the Mississippi river is icing up along with countless other water bodies. Public facilities have been closed, and transport chaos has filled airports and service areas. It is bitter from south Texas to the Canadian border, from Montana to New England.
Hundred-year temperature records have tumbled and the long New Year's weekend also claimed four lives.
The freeze meant people took to alternative means of transport or just horsed around with the rare conditions, while north-east of Fort Worth, Texas, a police officer had a narrow escape as road conditions became dangerous, narrowly avoiding injury as he slipped and fell out of the way of an onrushing, braking vehicle, out of control on the icy interstate.
Elsewhere multiple pile.ups were reported as drivers were caught out by black ice.
Seasonal swimming events for the hardiest had to be cancelled in some places as it was just too cold, but the Boston polar plunge was one such event that went ahead undeterred by the conditions.