DR Congo's top Catholic calls security crackdown "barbarism"
Comments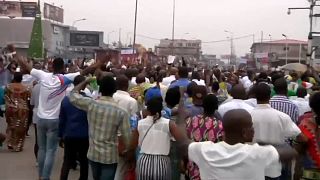 The head of the Roman Catholic Church in Congo has condemned a crackdown on protests against President Joseph Kabila as "barbarism".
It follows the killing of several people by security forces in Kinshasa, the capital of the Democratic Republic of Congo.
The deaths occured on Sunday when Catholic and opposition groups defied a ban on demonstrations demanding that President Kabila leave office.
The protests took place on the first anniversary of a Church-brokered deal under which Kabila was scheduled to leave office in 2017 after fresh elections.
The poll has since been postponed until December 2018.
The Catholic Church has often spoken out against human rights abuses in the country. After Sunday's clashes the UN also decried the killings as violent suppression of fundamental rights.