Iran: Pro-government rallies held after two days of political unrest
Comments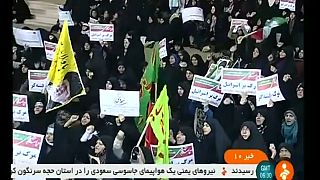 Thousands of demonstrators have turned out in support of Iran's government, just a day after opposition protests swept across the country's major cities.
The annual nationwide movement marks 8 years since the end of major unrest that shook the country in 2009.
State television shows the rallies in Iran's capital Tehran and its second largest city of Mashhad.
It's after anti-government demonstrators gathered in a number of cities across Iran on Thursday and Friday. They were protesting against high prices, alleged corruption and the Islamic Republic's costly involvement in regional conflicts such as in Syria and Iraq
Dozens of people were arrested during the rallies, which Iran's vice-president suggested had been organised by political opponents.
They were Iran's most significant demonstrations since 2009, when masses came out in support of then-president, Mahmoud Ahmadinejad, after reformists disputed his election victory.