Turkey signs deal to buy missiles from Russia
Comments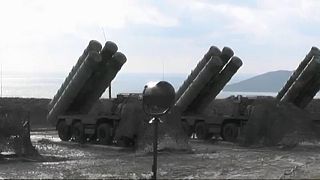 Turkey has agreed to buy a number of S-400 missiles from Russia for around $2.5 billion.
The two countries have been working on the arms deal for around a year.
The move has alarmed Turkey's NATO allies amid tensions with Moscow. They also say the missiles cannot be integrated into the alliance's own defence system.
But President Recep Tayyip Erdoğan's dismissed criticism, insisting Turkey cannot rely on NATO to defend it.
Under an accord signed in Ankara on Friday, the first delivery is planned for March 2020.
Turkish newspapers report Erdoğan plans to pay 45% up front and borrow the rest in loans from Russia.
The purchase follows a number of recent moves by the Turkish capital to boost its defense capabilities, with threats from Kurdish and Islamist militants at home and on-going conflicts nearby in Syria and Iraq.