Could Miss America pageant disappear?
Comments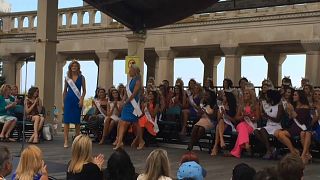 Scandals within the Miss America Pageant have continued.
Although former CEO Sam Haskill has resigned from the organisation problems associated with him have continued. Mr Haskill left after emails sent by him were published by the Huffington Post. In the emails Mr Haskill had discussed the sex life of one former winner and hoped another would 'die'. Other members of the Miss America board left with him, leaving a number of vacancies.
In an effort to salvage it's image the organisation says it wants former Miss America winners to be involved with choosing Mr Haskill's successor. However many were angry at the decision and have called for the entirety of the remaining board members to leave.
Gretchen Carlson, a TV anchor and former winner of the pageant tweeted that the decision was 'unacceptable'.
Former winner Mallory Hagan tweeted a link to a petition calling for all the board members to leave.