Putin registers re-election bid as Navalny calls for protests
Comments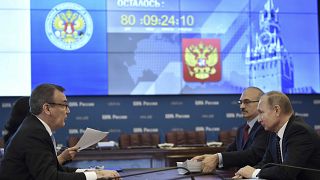 Vladimir Putin has submitted his application to Russia's Central Election Commission.
He's hoping to register as a candidate for the presidential ballot in March.
Putin has been in power for 18 years and is expected to easily win another six-year term.
Two of Russia's main parties say they won't field candidates in the election. Instead, A Just Russia and Civic Platform will back Putin.
That means he has the support of four out of six parties in the Duma, the lower house of Russia's Federal Assembly.
Ksenia Sobchak's liberal Civic Initiative party isn't represented in the Duma - and she wants people dissatisfied with the other candidates to vote for her.
Then there are other veterans of past elections - including liberal Grigory Yavlinsky and ultranationalist Vladimir Zhirinovsky.
Opposition leader Alexei Navalny has been deemed ineligible to stand due to a criminal conviction.
He says the charge is bogus and is calling for a series of nationwide rallies in January. He wants voters to boycott the presidential election.
"The question is not in the fact that they didn't let me run in the election," Navalny says in a campaign video. "But because of that it is important to take part in our boycott of voters. Not to defend Navalny, but to defend your own right to influence the regime".
Navalny has already organized some of the biggest anti-government protests in years. He says Putin's support is artificially maintained by an unfair system which excludes genuine opponents.