Deadly shopping centre fire adds to Philippines storm misery
Comments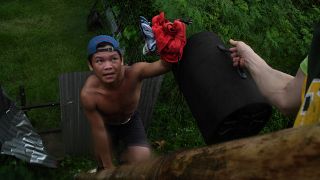 Thirty-seven people are feared dead after a fire spread through a shopping centre in the Philippine city of Davao.
Local media said most of the victims were believed to be employees of a call centre on the top floor of the building.
President Rodrigo Duterte visited the mall on Saturday night (December 23) to comfort relatives of the victims. Duterte had served two terms as the city's mayor and still lives in Davao.
The area had already been hit by a tropical storm which triggered mudslides and flash floods that are estimated to have killed some 200 people. Police and rescue workers say dozens have been reported missing.
Some 70,000 people have been displaced from their homes .. but disaster officials say many residents had ignored warnings to leave coastal areas and riverbanks.
Emergency workers, soldiers, police and volunteers have been searching for survivors, clearing debris, and working to restore power.
The Philippines is battered by about 20 typhoons every year, bringing death and destruction, usually to the poorest communities.