A heterosexual same-sex marriage in Dublin
Comments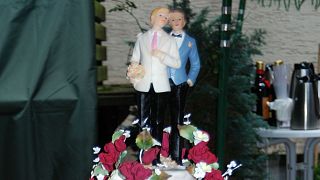 Two heterosexual men have come up with a novel way to avoid a hefty inheritance tax bill in Dublin: getting hitched. Best friends Matt Murphy (83) and Michael O'Sullivan (58) took advantage of an Irish law permitting same-sex marriages that was passed in 2015 following a referendum decision.
"The real issue here is our laws on inheritance tax, not whether two people who aren't romantically involved should be wed."

Journalist
O'Sullivan is a long-term carer for Murphy, who suffers from giant cell arteritis, affecting the optical nerve. However, Murphy has no money to pay his friend, instead promising to leave him his house when he dies. 
Under Irish law, O'Sullivan would have to pay 50,000 euros in inheritance tax on the house, which he would only be able to afford if he sold it. Having been homeless until he moved in with his friend, this would rather defeat the purpose of the bequest.
When they realised that no inheritance tax would be payable on the house if it were left to a spouse, the couple decided to tie the knot.
They got married in a former hospital on Dublin's Grand Canal Street, and held a small reception at the nearby Gasworks bar.
Michael O'Sullivan told the Irish Mirror:
"The equality gay and lesbian people did for this country, that they fought hard for, they were discriminated against for most of their lives, they got equality for themselves but also for everybody else."