Spy arrest in Ukraine clouds Britain's relations with Russia
Comments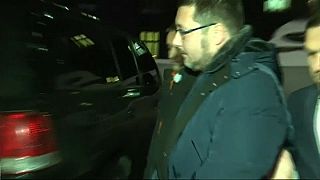 -
The arrest of an alleged spy in Ukraine risks straining UK-Russia relations even further. Stanislav Yezhov worked as an interpreter for Ukraine's Prime Minister Volodmyr Groysman and sat in on meetings with international leaders, including with Britain's prime minister.
"This official had access to rather specific inside government information, he was well-respected, and at the same time worked responsibly, accurately and creatively for the Russian intelligence services," said General Olexiy Petrov, the head of the counter-intelligence department of the security service.
Yezhov was shown on the BBC at Groysman's side on a visit to London in July to meet Prime Minister Theresa May.
Asked about Yezhov on Thursday Theresa May said she's aware of the charges but added that "it was a matter for the Ukrainian authorities."
According to the website of Ukraine's security services, Yezhov used "special equipment" to spy with.
Ukraine's state security service SBU said in a statement that the official was recruited by Russian agents while he travelled abroad.
Ukraine and Russia were once allies whose intelligence agencies often worked closely together, but relations deteriorated after Russia's annexation of Crimea in 2014 and support for pro-Russian separatists in eastern Ukraine.