Catalonia: pro-union Ciudadanos biggest winner
Comments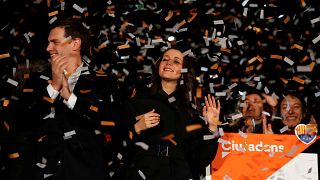 Inés Arrimadas, the leader of Catalonia's Ciudadanos (or Ciutadans, "Citizens") party, celebrated with supporters in Barcelona as the results of Thursday's regional election came in.
The centre-right anti-independence party was the night's single biggest winner – taking 37 seats in the region's snap election.
It won't be enough to put them in government but it will give the party a strong voice in parliament.
"We have won the elections for the Catalan Parliament," Arrimadas told her supporters at a rally after the vote.
"For the first time in Catalonia's history there's a constitutionalist party winning and it's Ciudadanos. There are 1.1 million Catalans who voted for us. I just want to say to you a million and a hundred thousand thanks to all of you".
It was a disappointing night for Catalonia's other anti-independence parties: the Socialist Party of Catalonia, or PSC, underperformed with 17 seats.
The right-wing Catalan People's Party scraped in with just three seats.
But perhaps the biggest loser of the night was Spanish Prime Minister Mariana Rajoy, who called the vote in the hope of dealing a blow to the region's secessionists.
The more than 80 percent of Catalans who turned out to vote had something else in mind.