Israel rejects "historic" UN vote
Comments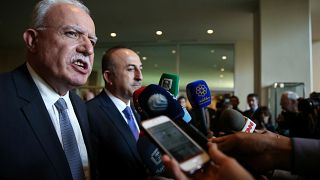 Watching the United Nations vote in the West Bank city of Ramallah, top Palestinian negotiator Saeb Erekat.
The vote to reject America's recognition of Jerusalem as Israel's capital is "historic," Erekat said:
"This is a day for peace, this is a day where the international community said the two state solution on the 1967 lines is doable – the state of Palestine with east Jerusalem as its capital to live side by side with the state of Israel in peace and security on the 1967 lines."
The non-binding vote has been the focus of frantic diplomacy by Israel and the US, in a bid to shore up support for America's unilateral move.
"Israel completey rejects this preposterous resolution," Israeli Prime Minister Benjamin Netanyahu said in a video posted to Facebook. "Jerusalem is our capital. Always was, always will be. But I do appreciate the fact that a growing number of countries refuse to participate in this theatre of the absurd. So I appreciate that, and especially I want to again express our thanks to (US) President (Donald) Trump and Ambassador (Nikki) Haley, for their stalwart defence of Israel and their stalwart defence of the truth."
Trump's decision to relocate the US Embassy to Jerusalem won't take effect for several years but the prospect alone seems destined to further complicate efforts to bring peace to the region.