US Senate passes tax reform bill
Comments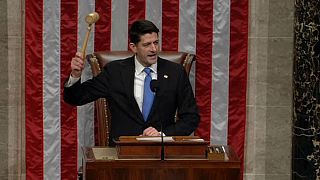 The Republican-led US Senate approved the most sweeping tax reform in a generation on Wednesday, paving the way for President Donald Trump's biggest legislative success since he took office.
Because of a last-minute procedural snag, the House of Representatives still has to vote on the bill a second time later in the day, after passing the bill 227-203 on Tuesday.
Democrats have blasted the legislation as a gift to corporations and the wealthy that will only increase the federal debt.
"Their bill increases taxes on lots of middle-class people. There's no reason a single family should pay more when every single corporation pays less. How can Republicans defend this?" said Senate Minority Leader Chuck Schumer, a Democrat from New York.
"Kill the bill"
Opinion polls show Americans are divided on the bill, which slashes the corporate tax rate to 21 percent, from 35 percent right now. Republicans say that will boost growth, create jobs and raise wages.
It also exempts companies from paying US taxes on most of their profits made abroad, granting multinationals a request they'd been making for years.
After midnight in Washington, D.C., the Senate narrowly passed the legislation on a party-line 51-48 vote.
Protesters interrupted with chants of "kill the bill, don't kill us" and Vice President Mike Pence repeatedly called for order.
'America ready to take off'
Upon passage, Republicans cheered and called it a historic day.
"After eight straight years of slow growth and underperformance, America is ready to take off," said Senate Majority Leader Mitch McConnell.
"Coupled with the regulatory reforms that have already been implemented by the administration, we now add comprehensive tax reform, major middle-class tax relief, and making our businesses both large and small more competitive around the world."
President Trump called the tax break the "biggest in history" and rejoiced that the bill also scraps a key aspect of Obamacare by ending a fine on Americans who don't get health insurance.
He said if the bill was approved on Wednesday, he would hold a news conference at the White House later in the day.