'Shocked' US sprinter Justin Gatlin sacks coach over doping claims
Comments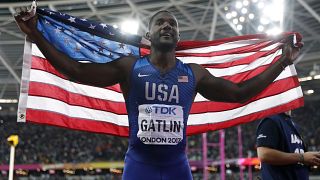 World champion sprinter Justin Gatlin says he has sacked his coach and was "shocked and surprised" at new doping allegations made against him.
The Athletics Integrity Unit (AIU) and the US Anti-Doping Agency (USADA) both say they have launched investigations, after the UK's Daily Telegraph claimed that Dennis Mitchell and sports agent Robert Wagner had offered to supply performance-enhancing drugs (PEDs) to undercover reporters.
The American 100 metres athlete – who has twice been banned for doping offences – took to Instagram to deny cheating.
"I was shocked and surprised to learn that my coach would have anything to do with even the appearance of these current accusations. I fired him as soon as I found about this," Gatlin said. "All legal options are on the table as I will not allow others to lie about me like this."
Sting operation
The Telegraph set up a sting operation where its journalists pretended to be working for a company making a film featuring an athlete caught doping.
The paper claims that Mitchell – the US former Olympic gold medallist sprinter – and other members of Gatlin's team offered to provide prescriptions in a false name. The coach and Wagner also offered to supply and administer testosterone and human growth hormone for a fee of 250,000 dollars (211,000 euros) via a doctor in Austria, according to the Telegraph.
Both men are said to have claimed that the use of banned substances in athletics is still widespread. The agent reportedly insinuates that Gatlin has been taking banned drugs.
Denials
Mitchell and Wagner deny the allegations. The coach told the Telegraph that he had "never suggested in any way that any of my current athletes used any banned substances". The agent – who is said to have worked only briefly with Gatlin – also denied being involved in doping. He said he "played along" in the sting and informed the AIU about the conversation.
The athletics world says it is taking the newspaper's allegations seriously. "Investigations stemming from tips and whistleblowers play a critical role in anti-doping efforts. We are presently co-ordinating with the Athletics Integrity Unit in order to investigate these claims fully," USADA said in a statement.
The International Olympic Committee said it had "full confidence" that WADA (the World Anti-Doping Agency) would examine the matter carefully. Sebastian Coe, president of the International Association of Athletics Federations (IAAF) which set up the AIU, has called the allegations "extremely serious".
Gatlin was banned for doping in 2001 and again in 2006, for offences he always denied. The 35-year-old was Olympic 100m champion in 2004 and again won gold in the 100m at this year's World Championships in London, beating the favourite Usain Bolt into third place.