Remains of Italy's penultimate King return home
Comments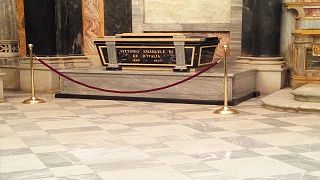 -
The remains of Italy's penultimate King, Victor Emmanuel III, have been repatriated, seven decades after his death in exile in Alexandria, Egypt, in 1947.
Who was Victor Emmanuel III?
He was King of Italy from 29 July, 1900, until his abdication on 9 May, 1946. He was a member of the "House of Savoy".
He also claimed the titles of Emperor of Ethiopia (1936-41) and King of the Albanians (1939-43).
He led the country through two world wars.
Why did he abdicate?
Victor Emmanuel III abdicated on 9 May, 1946 just before a referendum to decide whether Italy would keep its monarchy or become a republic.
He hoped that by, handing the throne to his son, Umberto II, he would swing public opinion in favour of the royal family.
He had become deeply unpopular during the Second World War, when he failed to check the rise of dictator Benito Mussolini, or to condemn his policies.
After his abdication he went into exile in Alexandria, Egypt, where he died a year later.
What happened to the Italian royal family?
Umberto II lasted only a month as king. In the referendum 52% of the Italian people voted to abolish the monarchy. He went into exile in Geneva, Switzerland, where he died a few decades later.
Italy's post-war constitution banned all male descendents of the House of Savoy from setting foot on Italian soil until 2002, when the prohibition was lifted.
The move to bring the remains of the royal family back to Italy began in earnest in 2011. However, some descendents say that they will not accept repatriation unless the bodies are interred in Rome's Pantheon, alongside their ancestors.
Why was he unpopular?
King Victor Emmanuel III made no effort to prevent Mussolini from seizing power in 1922, and subsequently failed to denounce Mussolini's abuses, including the assassination of Giacomo Matteotti in 1924.
He signed the Fascist racial laws in 1938, which targeted Jews in particular, leading to deportations and deaths in Hitler's death camps.
His assumption of the crowns of Ethiopia and Albania were condemned by the League of Nations and the King of Albania.
He allowed Mussolini to lead Italy into the Second World War as a member of the Axis, and remained in the war on that basis even when Mussolini had been deposed.
Where is he being buried?
Victor Emmanuel III's remains have been interred at the Sanctuary of Vicoforte, a House of Savoy church in Piedmont, to where his wife's remains had secretly been transferred a few hours beforehand.
A State flight was used to transfer the remains, which were draped in the flag of the House of Savoy, to the dismay of representatives of Italy's Jewish community.