Earthquake hits Java killing several people and leaving widespread damage
Comments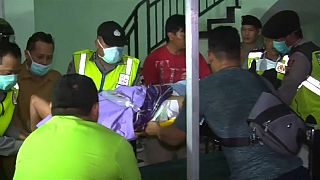 At least three people have been killed and hundreds of buildings damaged after an earthquake struck the Indonesian island of Java.
The 6.5-magnitude quake activated tsunami warning systems, forcing thousands to evacuate their homes in some coastal areas.
No tsunami was detected.
There was heavy damage to schools, hospitals, and government buildings in the west and centre of the island.
Dozens of patients had to be helped to safety from a hospital in Banyumas. Seven people have been reported injured.
Java is in the same archipelago as Bali, where the Mount Agung volcano has in recent weeks been violently erupting.
Some of the worst damage on Java was to a school building on the west of the island, much of which was reduced to rubble.