European Central Bank keeps stimulus measures on track despite big growth upgrade
Comments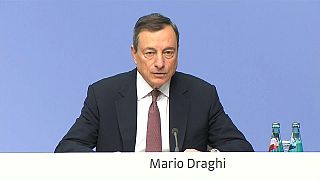 With the eurozone economy gathering strength, the European Central Bank has raised its growth and inflation forecasts.
But the bank has stuck to its pledge to provide stimulus for as long as needed, predicting inflation would remain below target into 2020.
"Our monetary policy decisions have preserved the very favourable financing conditions that are still needed for sustained return of inflation rates towards levels that are below but close to two percent. The incoming information including our staff projections, our new staff projections, indicates a strong pace of economic expansion and a significant improvement in the growth outlook." ECB President Mario Draghi told a news conference.
The ECB kept its key rates on hold and also held rigidly to its script on its intentions for next year - despite pressure from some policymakers to acknowledge explicitly the strength of the euro zone recovery and more closely follow the U.S. Federal Reserve's tightening trend.
The euro rose to a day's high of $1.186 after the bank raised its growth forecasts from this year through to 2019. There was also a modest upgrade of price expectations, though inflation was predicted at just 1.7 percent in 2020 - short of its official target of close to 2 percent.
In a nuanced message, ECB President Mario Draghi added that he was more confident than two months ago that the inflation target could be reached and said he saw no negative effect from the U.S. Fed's tightening, with its latest rate hike announced on Wednesday.